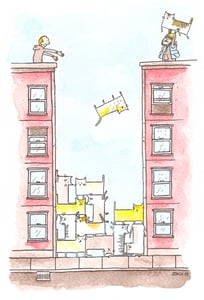 $

10.00
Harkening back to a simpler time before the advent of modern convenience for feline desposal. Cat Tetris transports the viewer to such a world where sufferage was for no one and jobs rended flesh from bone and children from innocence.
Printed at 8 x 12 inches at Monster Milk Manor under supervision of artists Zach Marcus, Becky Dreistadt, Tyler Hutchison, and print tech Frank Gibson, these giclée prints are printed on genuine watercolor rag to duplicate the original textured surface of the painting.
The inks used are rated for 100 years without degradation.
All prints are unframed and will be packaged and shipped with the utmost care.
All prints come clumsily signed by the artist.